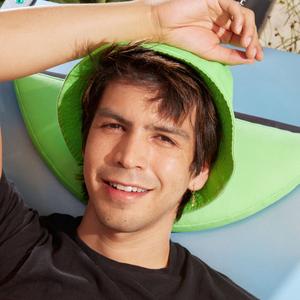 Julio Torres is an Emmy-nominated and WGA-winning writer and comedian from El Salvador.

Most recently, Torres made his directorial feature film debut with A24's PROBLEMISTA, which will premiere at SXSW. Torres also wrote and stars in the film alongside Tilda Swinton, Isabella Rosselini, and RZA. Emma Stone and Dave McCary are also producers via their Fruit Tree banner.

Torres stars as Alejandro, an aspiring toy designer from El Salvador, struggling to bring his unusual ideas to life in New York City. As time on his work visa runs out, a job assisting an erratic art-world outcast (Swinton) becomes his only hope to stay in the country and realize his dream.

Torres can be seen in both seasons of his HBO series Los Espookys, which he co-created with Fred Armisen and Ana Fabrega. A Spanish-language (with English subtitles) comedy, Los Espookys follows a group of friends who turn their love for horror into a peculiar business, providing horror to those who need it, in a dreamy Latin American country where the strange and eerie are just part of daily life. Both seasons were received with critical acclaim and currently available on HBO and HBO Max.

Last year, Torres released his first picture book, I Want to Be a Vase from Simon & Schuster. Illustrated by animator and designer Julian Glander and inspired by Torres' first standup special, My Favorite Shapes, the book takes readers on an essential and visually stunning journey through the lives and intimate dramas of often-overlooked household appliances.

Torres recently signed a first-look deal with HBO and HBO Max. Under the two-year pact, he has two half-hour comedies in the works: Little Films, written, directed, executive produced and headlined by Torres, which has received a six-episode series order by HBO and will begin production this February; and Lucky, co-written and executive produced by Torres, which is in development at HBO.

In Little Films, Torres tells the tale of when he lost a golden oyster. The people he encounters as he searches for it and the musings he has along the way become points of departure for little films, as Torres navigates weaving in and out of these introspective, often eerie comedic stories. Dave McCary will direct the series and executive produce alongside Emma Stone for their Fruit Tree banner. Irony Point and 3 Arts Entertainment serve as additional executive producers.

Lucky hails from Torres and Spike Einbinder (Los Espookys) who both write and executive produce. The upcoming series is the coming-of-self story of Lucky, a trans non-binary, dog-obsessed misfit who joins forces with fellow queers in the world of Brooklyn's gig economy. Lucky also builds on Torres and Einbinder's collaboration, as the two have both appeared in Los Espookys and will work together for Torres' upcoming feature debut.

In 2019, Torres released his first comedy special, My Favorite Shapes, on HBO, as well as the first season of Los Espookys, which he co-created with Fred Armisen and Ana Fabrega.

Torres received four Emmy nominations for his work on Saturday Night Live, on which he has served as a writer from 2016 to 2021.

Torres' additional acting credits include Search Party, The Great North, Shrill, Together Together, and The Other Two. He currently resides in Brooklyn, NY.
Events featuring Julio Torres
Mar 13, 2023
2:30pm — 3:30pm
Events featuring Julio Torres
Mar 13, 2023
2:30pm — 3:30pm