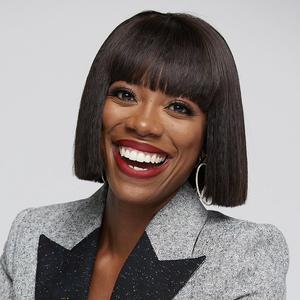 YVONNE ORJI gives a knockout performance as Issa Rae's best friend and fan favorite, "Molly" on the HBO comedy series, INSECURE. Her stellar work on the show's fourth season garnered her an Emmy Nomination for best supporting actress.
Her most recent stand-up and sketch special, A WHOLE ME, premiered on October 1st, 2022 on HBO, joining her previous special MOMMA, WE MADE IT on the platform. Prior to the tapings of both specials, she embarked on tours which included sold out shows in New York, London, and Los Angeles. She has opened for Chris Rock in a number of venues across the country including Madison Square Garden and the Barclays.
Her feature film, Fox/Hulu's VACATION FRIENDS, opposite John Cena and Lil Rel Howery which released August 27th, 2021 and became Hulu's most viewed original film to date. Yvonne has recently wrapped the sequel, HONEYMOON FRIENDS, in Hawaii.
She is the host of HBO MAX's reality series MY MOM YOUR DAD, which premiered at the beginning of this year, as well as 2021's YEARLY DEPARTED.
Her debut book, Bamboozled by Jesus: How God Tricked Me Into the Life of My Dreams, released May 25th, 2021 by Hachette Book Group.