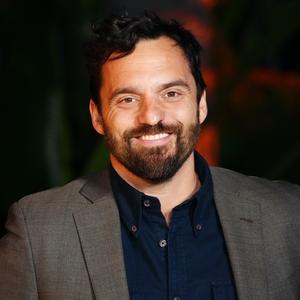 Jake Johnson is an actor, producer, director, and writer who has built a captivating career with his hilarious and engaging performances on both the big and small screen.

He is currently preparing for the premiere of his latest film, SELF RELIANCE, at SXSW this March. Written, directed, produced by and starring Johnson, SELF RELIANCE's all-star cast also includes Anna Kendrick, Andy Samberg, Wayne Brady and Christopher Lloyd. The film tells the story of a man offered a million dollars to play in a life and death online reality game show, who thinks he has found the perfect loophole: they can only attack when he's alone. His only problem is that none of his friends nor family believe the game is real.

This year, Johnson will also reprise his role in the highly anticipated sequel to Peter Ramsey, Robert Persichetti Jr. and Rodney Rothman's SPIDER-MAN™: INTO THE SPIDER-VERSE, for Sony Animation. The 2018 animated feature, produced by Chris Miller and Phil Lord, went on to win the Academy Award for Best Animated Feature (as well as the Golden Globe and the Critics' Choice Award for the same category). Telling the adventures of the newest addition to the Spider-Man universe in which Spider-Man crosses parallel dimensions and teams up with the Spider-Men of those dimensions to stop a threat to all reality, SPIDER-MAN™: ACROSS THE SPIDER-VERSE – PART ONE premieres in theaters on June 2, 2023.

He can currently be seen starring in the acclaimed comedy series, MINX, from Executive Producers Paul Feig, Dan Magnante and Showrunner/Creator Ellen Rapoport, which is also the first series Johnson has served as Executive Producer on. Johnson plays a low-rent publisher in 1970s Los Angeles who joins forces with an earnest young feminist to create the first erotic magazine for women. Season one of MINX debuted to rave reviews and Starz will debut its much anticipated second season in 2023.

Previously, Johnson starred in the Netflix limited series LOST OLLIE opposite Gina Rodriguez and Jonathan Groff, which was released on the platform on August 24th, 2022. In September 2019, he starred in ABC's crime-drama series STUMPTOWN opposite Cobie Smulders, adapted from the comic book series of the same name.

In 2018, Johnson starred in Jeff Tomsic's feature comedy, TAG, opposite Jon Hamm, Jeremy Renner, Ed Helms, Rashida Jones and Isla Fisher. Johnson also starred in Bobbie Peers' comedy short, TO PLANT A FLAG opposite Seth Morris, Jason Schwartzman, and Ingvar Eggert Sigurðsson.

In 2017, Johnson wrote, produced and starred in Joe Swanberg's WIN IT ALL. He also starred in the reimagining of the classic thriller THE MUMMY, opposite Tom Cruise and directed by Alex Kurtzman.

In 2016, he starred in Colin Trevorrow's JURASSIC WORLD opposite Chris Pratt and Bryce Dallas Howard; and his second film with director Joe Swanberg, DIGGING FOR FIRE in which Johnson co-wrote the script with Swanberg and starred alongside Sam Rockwell, Rosemarie DeWitt and Brie Larson.

Some of Johnson's other film credits include LET'S BE COPS alongside Damon Wayans Jr.; Swanberg's DRINKING BUDDIES opposite Olivia Wilde, Anna Kendrick and Ron Livingston; and director Jenee LaMarque's independent film THE PRETTY ONE alongside Zoe Kazan. He also co-starred in Phil Lord and Chris Miller's 21 JUMP STREET alongside Channing Tatum and Jonah Hill; in Colin Trevorrow's film, SAFETY NOT GUARANTEED opposite Aubrey Plaza and Mark Duplass; in Ivan Reitman's comedy, NO STRINGS ATTACHED written by NEW GIRL creator Liz Meriwether; and in Max Winkler's CEREMONY opposite Uma Thurman and Michael Angarano.

For his role on NEW GIRL, Johnson was nominated for a 2013 Television Critics Association Award in the category of Individual Achievement in Comedy.

In 2009 Johnson starred in Nick Jasenovic's PAPER HEART, with Charlyne Yi and Michael Cera. The film was nominated for the Grand Jury Prize at the Sundance Film Festival.

Born in Chicago, Johnson is a graduate of New York University's Tisch School of the Arts. Currently, he resides in Los Angeles.
Events featuring Jake Johnson
Events featuring Jake Johnson