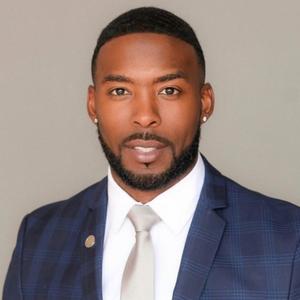 Andrew "Hawk" Hawkins, is a former NFL wide receiver, entrepreneur, sports and entertainment
executive, and award-winning personality and host. Hawk's 7-year NFL career was as unlikely
as his post-NFL successes in media, business, and entertainment. After starring at the
University of Toledo, Hawkins set out on an improbable odyssey to NFL stardom that included
working as a caddy, factory worker, Detroit Lions scout, competing on reality competition 4th
and long, and playing in the Canadian Football League. His one in a million journey is currently
being developed into a film.
 
Three years after his college graduation, Hawkins finally landed a spot in the National Football
League and went on to play seven seasons for the Cincinnati Bengals and Cleveland Browns
before retiring from the New England Patriots. The former NFL team captain amassed 250
receptions, 14 touchdowns, and nearly 3,000 yards throughout his professional football career.
 
Hawkins is equally impressive off of the field and earned a Master's degree from Columbia
University while simultaneously playing in the NFL, graduating with a 4.03 G.P.A in 2017.
 
His first foray into entertainment came by way of a starring role on the SpikeTV's unscripted
football competition that revitalized his playing career. After retiring from the NFL, Hawk began
his media career at ESPN, becoming one of the founding anchors of the 2x Emmy
nominated SportsCenter on Snapchat. Behind the camera, Hawk, who is currently on-air talent
for the NFL Network, Amazon Studios, Discovery, Roku and Uninterrupted, has written and
produced award-winning digital content and served as the Executive Producer of Hair Love,
which won the 2020 Academy Award for Best Animated Short.
 
Hawk is also a modern pioneer in using his platform in professional sports to speak out on
social injustice. He made national headlines in 2014 for both his on-field protest of the killings of
two black teenage boys in Ohio by law enforcement (Tamir Rice and John Crawford III) and the
subsequent explanation of his stance. "Justice is a right that every American should have, and
also justice should be the goal of every American... So, a call for justice shouldn't offend
anybody and a call for justice shouldn't warrant an apology."
(https://www.youtube.com/watch?v=p3-94BBs2rk)
 
The t-shirt he wore that day now hangs in the Smithsonian National Museum of African
American History and Culture in our nation's capital and Andrew has been featured in multiple
African American history books. Hawkins has spoken on social justice and athlete activism at
MIT, Harvard, the New York Bar Association, and the US Congress.
 
Hawkins has served as the Director of Business Development and Creative Strategy for the
media, marketing and entertainment companies of LeBron James and Maverick Carter since
2017 (The SpringHill Company). He has also consulted for NBA teams, NFL teams, US Olympic
programs, media companies, sports leagues, and sports analytics companies.
 
As an entrepreneur, Hawkins is the co-founder of StatusPRO, a venture capital-backed sports
technology and gaming company combining data with augmented and virtual reality to provide a
suite of training and gaming products that revolutionize the way coaches, players, and fans
experience sports. StatusPRO launched the first ever fully-licensed simulation NFL VR
game, NFL PRO ERA, in partnership with the NFL, Facebook, Oculus, and Sony in 2022.
Events featuring Andrew Hawkins
Events featuring Andrew Hawkins