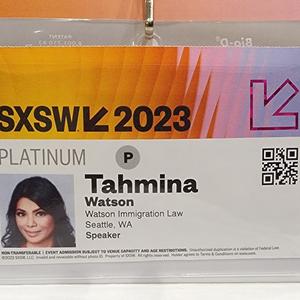 Tahmina Watson is the Founder of Watson Immigration Law. She is the author of The Startup Visa and host of The Startup Visa podcast. Business Insider lists her as one of America's top immigration attorneys for tech startups.
Tahmina is a go-to expert on immigration and has been featured in the New York Times, NPR, Bloomberg, Forbes and more.
In her spare time, she is a passionate bird photographer.
Events featuring Tahmina Watson
Mar 10, 2023
11:30am — 12:30pm
Events featuring Tahmina Watson
Mar 10, 2023
11:30am — 12:30pm