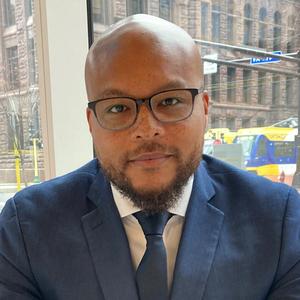 Brian brings more than 30 years of professional experience in the public and private sectors to his role as the Director of the Department of Performance Management & Innovation for the City of Minneapolis. His background includes work in nonprofit management, county government, for-profit business development, policy consultation, fundraising, business development, legislative advocacy, and reform efforts in juvenile justice, adult justice, human services, health, transportation, and education.
He also currently serves as the Chief Executive Officer of Fortis Capital, a non-profit lending corporation engaged in economic development finance with an emphasis on providing access to debt capital for businesses owned by persons of color in marginalized communities. This May, Brian was one of three recipients of the Creative Bureaucracy Festival unsung heroes award in Berlin, Germany for his leadership on public safety work. He received this award alongside Mykhailo Federov, Ukrainian Vice Prime Minister and Minister of Digital Transformation, and Kotchakorn Voraakhom, a Thai Sustainable Landscape Architect and Urban Planner. He was also the recipient of Pollen Midwest 50 over 50 award this October for his work on public safety and other system change initiatives.
Before joining the City, Brian was owner and president of the Institute on Culture and Policy, a policy consulting firm dedicated to eliminating racial and ethnic disparities through systems change and community engagement. While maintaining his leadership role with the Institute on Culture and Policy, Brian also served as the State of Minnesota's coordinator for the Juvenile Detention Alternatives Initiative for five years.
Events featuring Brian Smith
Events featuring Brian Smith