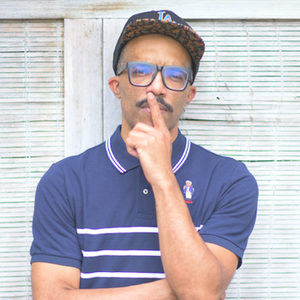 "J.Rocc is one of illllllllest DJs ever. If you see his name in your town? Rush! See a living legend!" Questlove
A Wonderful Letter crafts a love letter to Los Angeles – a message from J to the city and its people. The album revisits his roots in the L.A. underground beat and hip-hop scenes, and features several guest artists including Steve Arrington, The Koreatown Oddity, Egyptian Lover and Budgie.
As one of the original turntablists, J. Rocc has DJ'd around the world and has played with some of the most influential hip-hop artists such as Madlib and J Dilla. He has been a centre of gravity for the L.A. beat scene for over 20 years, and was a seminal force in the rise of instrumental hip-hop.
The scene is sunny, smoggy Southern California, early 1980s. Traffic is barely moving. In the passenger seat of one of those cars there is young Jason Jackson, spinning the dial on the FM radio. R&B, early hip-hop, electro, new wave, independent jams, and music from the superstars – it was all a few notches away when the airwaves were wild and free. And when the radio dial was not enough, Jason Jackson got his first pair of turntables. The DJ known as J Rocc was born, like a character in a Marvel comic book learning how to use a super power.
J Rocc and his crew the Beat Junkies have been a seminal force in the rise of instrumental hip-hop, and were among a handful of DJs who transformed the craft into an art form. All along the way J Rocc has been making his own beats, and A Wonderful Letter – his letter to Los Angeles, and his dedication to a lifetime of L.A. music scenes – is only his second full-length album.