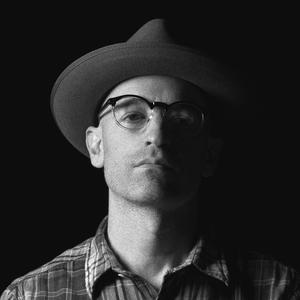 Chris Manak first discovered hip hop at the age of nine in his hometown of San Jose, CA in 1979. He was mainly buying soul/funk 45s by artists like Cameo and The Bar Kays at that time. You were either a rocker or a souler and PBW was a souler. To celebrate his first year as a teen in 1984, his mom got him a DJ mixer from Radio Shack. He soon discovered reggae, new wave, and punk, but hip hop was still #1. He started making beats for MCs in 1986 and by 1990, he met 16-year-old rapper Charizma. Charizma soon dared Chris to change his DJ name to Peanut Butter Wolf. It wouldn't be Wolf's last unconventional career move.
Charizma and Peanut Butter Wolf recorded over an album's worth of "golden age" hip-hop for Hollywood Records until December 1993, when the world lost Charizma to gun violence. Wolf took a break.
"Making beats" eventually became therapy, though, as he focused on a career as a music producer for the next few years. By 1996, he started Stones Throw Records out of his bedroom as a vinyl-only record label that catered strictly to DJs.
His own album My Vinyl Weighs A Ton, was the most successful release of the early years of Stones Throw. By 2000, Wolf relocated the label to Los Angeles, bringing hip hop artist Madlib along with him, who became the center of the label for many years. When Madlib made Quasimoto's The Unseen, a helium-voiced alter ego, Stones Throw saw a turning point. From then on, the label defied more conventions with each year.
With artists as varied as James Pants, Dam-Funk, and Anika, Stones Throw grew a reputation for its left-field style, while albums like Madvillain and J Dilla's Donuts, cemented Stones Throw's status in hip hop. Wolf has also curated albums for Adult Swim, 2K Sports, Serato, and Urban Outfitters. He has discovered and developed artists such as Mayer Hawthorne, Jonwayne, The Stepkids, and Aloe Blacc.
After over three decades of vinyl digging experience, PBW now takes DJing to the next level: multimedia. His VJ sets find him playing music video clips pulled from his extensive collection of rare VHS, bootleg DVD, laser disc, U-Matic, you-name-it. From 2007-2012, he created the PB Wolf vs. LA series based on numerology. In 2007, he spun 7 nights in a row in his favorite LA bars/clubs, ending on July 7, 2007 (7-7-7). In 2008, he did 8 nights, 2009, 9 nights, etc, til Dec 12, 2012 which saw him spin a 12 hours live web video stream from his home for Boiler Room TV.
Peanut Butter Wolf the label founder still enjoys a DJ career that has taken him around the world since 1992. Whether it's a private dinner party for Bill Clinton, a string of dates with the Beastie Boys, Gwen Stefani's birthday party, or his own high school reunion, Wolf is equally at home behind the turntables.
Look out for the documentary on Wolf's life that debuted in June 2013 at the LA Film Fest. Featuring Kanye West, Quest Love, Flying Lotus, A-Trak, Geoff Barrow, Odd Future, Common, etc. Our Vinyl Weighs A Ton, traces the story of Chris's life and the artists of the record label he created nearly 20 years ago.
Events featuring Peanut Butter Wolf
Mar 16, 2023
2:30pm — 3:30pm
Events featuring Peanut Butter Wolf
Mar 16, 2023
2:30pm — 3:30pm