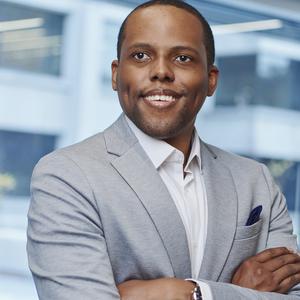 Bryant Powell, MBA
Associate Director, WW Commercialization Operations; Worldwide Commercialization Strategy Operations, BOLD Social & Digital Media Lead
Bryant Powell, MBA, is the associate director of Worldwide Commercialization Operations at Bristol Myers Squibb. Corporate strategist, podcasting lead and content creator are just a few of the many words that describe who he is and what he aspires to do daily. But simply put, he is a Storyteller.
Bryant is a passionate advocate for uplifting people within a workplace with the goal to put individuals in a place where they can achieve their biggest successes and thrive. Whether that be building culture within an organization, providing mentorship for those finding their way or giving individuals a platform to speak to their personal brand, giving back and building up a community is at the forefront of his drive.
He is a guide that empowers individuals to understand as well as speak to their personal brand, allowing them to articulate what makes them a unique leader within their industry. Drawing from his experience in media, strategy and people management, his work allows individuals to speak to their true story in an authentic and impactful manner.
Bryant earned his bachelor's degree in telecommunications from The Pennsylvania State University and his master's degree in business administration from Washington University in St. Louis. He has years of experience in corporate strategy, podcasting, and media.
Events featuring Bryant Powell
Mar 12, 2023
10:00am — 11:00am
Presented by
Real Chemistry
Events featuring Bryant Powell
Mar 12, 2023
10:00am — 11:00am
Presented by
Real Chemistry