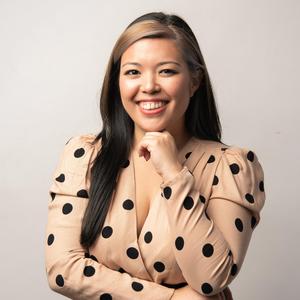 Ayeshah Abuelhiga is the Founder & CEO of Mason Dixie Foods. A graduate of George Washington University, she has always worked hard to be #1: 4.0 GPA, class president, varsity track and field team captain, editor of the paper, Ayeshah continues to strive to be the best she can be. Prior to founding Mason Dixie, she held executive positions at Fortune 500 companies including Toshiba and Audi and consulted at Microsoft, where she learned about leadership and acquired the skills to run a successful business.
Growing up in the kitchen of her parent's soul food carryout restaurant in Baltimore made Ayeshah passionate about Southern Cuisine. Years later, Ayeshah craved one of her childhood comfort foods-- biscuits--but she could only find heavily processed versions made using artificial ingredients. She knew she could offer better quality comfort food. So, at age 28, Ayeshah opened a biscuit-centric restaurant and pop-up series in Washington D.C. that immediately found a growing and devoted biscuit-loving audience.
In 2014, Ayeshah expanded her biscuit dream beyond the restaurant with business partner and Brand COO, Ross Perkins. They saw a gap in the $1.3B frozen baked goods category and wanted to offer baked goods made from scratch to a larger consumer base. Mason Dixie Biscuits launched as the only, clean-label, ready-to-bake line of frozen biscuits and immediately forged a strong customer base.
A natural leader on her journey, Ayeshah has thrown out the "rule book" to excel in a male-dominated industry. Mason Dixie Foods is the fastest growing frozen convenient comfort foods company in the U.S. and their biscuits, scones and breakfast sandwiches can now be found in freezers at over 8,000 retail grocery stores nationwide and at the breakfast bar at Marriott Hotels across the U.S.
One of Ayeshah's biggest professional accomplishments is hiring a diverse team, each of whom shares her commitment to providing the best frozen comfort food in the world. As a founding board member of Project Potluck, Ayeshah is committed to enhancing visibility, access and community for BIPOC in CPG with a growing membership base of over 800 BIPOC founders, entrepreneurs and career-scaling individuals. In 2022, she won the NOSH 'Person of the Year' award, which is reserved for individuals whose work has created substantial, positive change through innovation and community.
Ayeshah grew up in a disadvantaged environment and the only career options she considered were doctor, lawyer and teacher. The idea of entrepreneurship or any "out of the box" career was foreign to her, as she had no first-hand exposure in her community. Fortunately, Ayeshah eventually found mentors on her journey. She strongly believes that mentorship can truly impact the trajectory of a person's career and life, so one of her goals is to guide and teach life skills to underserved people.
When she is not working, Ayeshah likes to travel, take fitness classes, cook, and entertain friends. "Nothing is more gratifying than watching people eat and enjoy their food," says, Ayeshah. "It is the most fulfilling thing in the world to help people feel nourished and savor the moment."
Events featuring ayeshah abuelhiga
Events featuring ayeshah abuelhiga