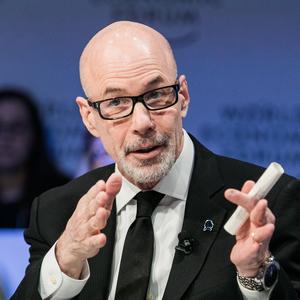 Dr. Klasko is an author, an entrepreneur, and a believer in the creative and optimistic transformation of healthcare and higher education. He has been a CEO, a university president, and a dean of two medical colleges. Currently, he is pursuing his passion to bridge academic health centers with the emerging world of digital medicine and innovation.
His most recent book, Feelin' Alright: How the Message in the Music Can Make Healthcare Healthier, uses music and creativity to tackle the biggest issues in healthcare and calls on leaders to find, as Sia wrote in her song, the "courage to change."His fifth book (with Hemant Taneja of General Catalyst) in 2020, UnHealthcare: A Manifesto for Health Assurance, has become the manual for both founders and health system CEOs for merging the venture capital world with the traditional healthcare ecosystem.
Dr. Klasko serves as an Executive in Residence at General Catalyst, North American
ambassador for Sheba Medical Center in Israel, and as CMO and Operating Partner of
Abundant Partners. He serves as the lead independent director for Teleflex
(TFX:NYSE). In 2022, President Biden appointed him to the National Board of
Education Sciences.
Until 2021, he was President and CEO of Thomas Jefferson University & Jefferson
Health in Philadelphia, and architect of Jefferson Health's record as the fastest growing
academic health system and the landmark merger of two universities bringing together
design and academic health.
In 2018, he was tied for #2 among Modern Healthcare's "100 Most Influential
Individuals," was named Fast Company's #21 "Most Creative People in Business" and in
multiple years has been named among Becker's Hospital Review's "100 Great Leaders in
Healthcare." As a Distinguished Fellow of the World Economic Forum, he has spoken of
the crisis in health disparities and the need for ethical standards in the digital revolution
and is currently a leader in the Forum's global impact on aging.
Events featuring Stephen Klasko
Presented by
Energizing Health
Events featuring Stephen Klasko
Presented by
Energizing Health