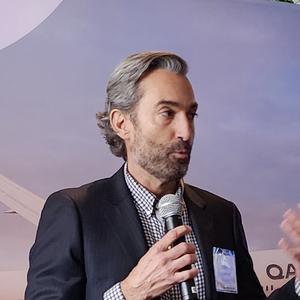 John Ackerman serves as Executive Vice President of Global Strategy and Development at Dallas Fort Worth International Airport. He leads Airline Relations, Cargo, Aviation Strategy and Enterprise Analytics, Government Relations, and is responsible for DFW's commercial parking strategy, products, pricing, and revenue. Mr. Ackerman joined the DFW staff in 2015.

Mr. Ackerman directs DFW's efforts to raise the Airport's global profile through international air service and business development. He helped develop the Airport's strategic plan, which is focused on being the premier gateway between Asian and Latin America for both passengers and cargo.

Prior to DFW Airport, he worked as Denver International Airport's Chief Commercial Officer, was a pilot and executive at United Airlines, and was a Senior Director of Product Management at Standard & Poor's.

Mr. Ackerman served as an active duty officer and AV-8B Harrier pilot in the U.S. Marine Corps and holds a Bachelor of Arts in Economics from Duke University. He currently serves the north Texas community as a board member of the SPCA of Texas, Visit Dallas, North Texas Commission, is a member of the Dallas Zoo Guest Experience Committee, and is the Chairman of the Texas Commercial Airports Association.
Events featuring John Ackerman
Mar 13, 2023
10:00am — 11:00am
Events featuring John Ackerman
Mar 13, 2023
10:00am — 11:00am