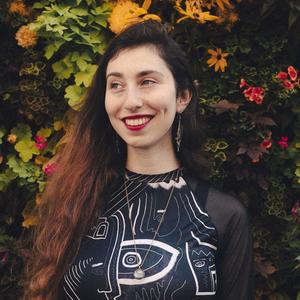 All Around Artsy was founded in 2009 by Kira Bursky, an award-winning filmmaker and multidisciplinary artist. She is inspired by her personal journey with mental health and is driven to tell stories of our ability to transform our minds and hearts into a perspective of infinite possibility.
She has produced over 60 short films and music videos that have screened at festivals around the world from Los Angeles to Berlin to Beijing. Some of her honors include: National YoungArts Finalist, White House Student Film Festival Finalist, Best Emerging Female Filmmaker at NFFTY, featured as Seventeen Magazine's Power Girl, and recipient of the Emerging Artist to Watch grant through Le Couvent artist residency in France.
Kira and her creations have been featured through NPR, Forbes, SPIN, Out Magazine, Pride and No Film School. Her YouTube channel has over 42,000+ subscribers and 16 million+ views. On Twitter she has 17,000 followers. In November 2019, she created and launched an immersive film installation entitled "Considerations of Infinity," as a part of a year-long artist residency in Asheville, NC.
In 2021, Kira dove headfirst into her passion of visual art. Since then, she has sold 2,500+ NFTs on the Ethereum, Solana, Tezos and Bitcoin blockchains, spoken about NFTs & web3 as an official speaker at SXSW, NFT MoonFest in Las Vegas and NFT Miami Week, and presented a keynote speech on Mental Health in the NFT Community at NFTCon in Miami. Her mental health celebrating NFT collection "Magic Mind" recently donated $10,000 in cryptocurrency to mental health organizations.
Events featuring Kira Bursky
Mar 13, 2023
4:00pm — 5:00pm
Presented by
Entertainmint
Events featuring Kira Bursky
Mar 13, 2023
4:00pm — 5:00pm
Presented by
Entertainmint