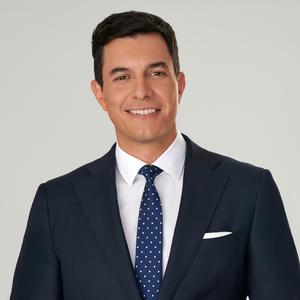 Tom Llamas is NBC News' senior national correspondent based in New York. He reports for all NBC News platforms, including NBC Nightly News with Lester Holt, TODAY, NBC News NOW, and MSNBC. He is also the anchor of a primetime newscast for NBC News NOW, airing daily at 7pm ET.
Since joining NBC News in 2021, Llamas has been on the ground reporting on the elementary school shooting in Uvalde, the war in Ukraine, the building collapse in Surfside, migrants at the U.S.-Mexico border and the coronavirus pandemic. Llamas was reporting in Ukraine for nearly two weeks and was the only streaming news anchor to anchor a program live on the ground.
Llamas has received numerous awards and honors throughout his career, including the National Association of Hispanic Journalists' Presidential Award of Impact and the El Award from El Diario, the largest and oldest Spanish-language daily in the U.S. In 2013, he received Emmy awards for Best Anchor and Best Hard News Story and in 2012, he won two regional Edward R. Murrow awards for feature and hard news reporting. Additionally, he was also part of the WNBC team that won the Murrow award for breaking news coverage of Hurricane Sandy in 2014.
Events featuring Tom Llamas
Events featuring Tom Llamas