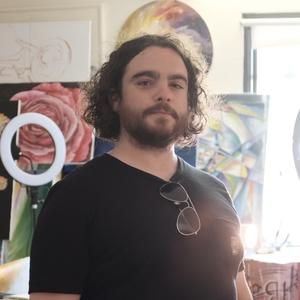 Ryan Patrick Hooper is the award-winning host and producer of CultureShift on 101.9 WDET-FM Detroit's NPR station. Hooper has covered stories for the New York Times, NPR, Detroit Free Press, Hour Detroit, SPIN and Paste magazine.
Hooper grew up reading the Sunday paper with his dad. That's where he learned the basics of writing while dreaming of one day writing the stories himself. At 16, he knocked on the door of his hometown paper and asked for a job as a reporter. Since then, he's written extensively for the Detroit Free Press -- the same paper he grew up reading.
Since joining WDET in 2017, Hooper has expanded the station's arts and culture coverage and received numerous awards from the Michigan Association of Broadcasting along the way. Nationally, Hooper was awarded a 2020 RTDNA Regional Edward R. Murrow award for feature reporting for his story "Would You Rent a Stray Dog From the City of Detroit?" In 2018, Hooper was named the Associated Press Michigan Editors Broadcast Rising Star in broadcast journalism. He received the prestigious Crain's Detroit Business "20 In Their 20s" award in 2014. His commitment to volunteerism was recognized by the State of Michigan in 2007.
His juggalo-inspired I.C.Pizza costume was selected by the Huffington Post as one of the best Halloween costumes of 2014.
Events featuring Ryan Patrick Hooper
Events featuring Ryan Patrick Hooper