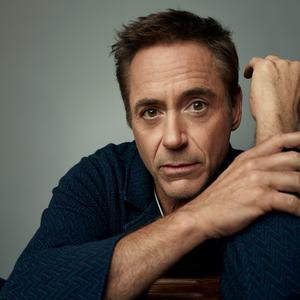 ROBERT DOWNEY JR. is a two-time Academy Award nominee and Golden Globe winner best known for his performance in the title role of the blockbuster franchise "Iron Man." Downey's character as Iron Man/Tony Stark contributed in defining what became an unprecedented cinematic journey ten years in the making. "Avengers Endgame," the film that starred Downey in his iconic role for its final run, garnered more than $2.79 billion at the worldwide box office. Following his Marvel tenure, Downey has shifted to writing, producing, and starring in his own projects under his Team Downey banner, the production company he and his wife Susan launched in 2010.
Downey is next starring in Christopher Nolan's highly anticipated, star-studded feature "Oppenheimer" for Universal, based on the Pulitzer Prize-winning book American Prometheus: The Triumph and Tragedy of J. Robert Oppenheimer. He is also set to play Parker in "Play Dirty", the first project coming out of Team Downey's partnership with Amazon Studios in which they will develop a series of feature film and television projects based on Donald E. Westlake's Parker series of highly popular crime fiction novels. The film, which Downey is also producing, unites Downey with director Shane Black and producer Joel Silver years after their cult classic, "Kiss Kiss Bang Bang."
Most recently, Downey produced and was featured in Netflix's critically acclaimed documentary "Sr." A lovingly irreverent portrait of the life and career of maverick filmmaker Robert Downey Sr., the film made its world premiere at the prestigious Telluride Film Festival, followed by a successful encore debut at New York Film Festival, in the city where Sr. called home, and won the "Best Documentary" award from the National Board of Review.
Marking his first return to television in over two decades, Downey is co-starring in HBO's "The Sympathizer," the series adaptation of Viet Thanh Nguyen's Pulitzer Prize-winning debut novel. Under the direction of Park Chan-wook and produced by Team Downey, Downey will play an impressive five supporting roles including the four main antagonists. Downey is also starring in and executive producing "Downey's Dream Cars" for Discovery+, an unscripted series that will follow him and a team of experts as they restore six classic cars from his own collection to make them more eco-friendly.
Under his Team Downey banner, Downey executive produces the Emmy-nominated "Perry Mason" and the acclaimed genre series "Sweet Tooth" for Netflix/Warner Bros. TV.​​ Both series are currently in production on their second seasons. Downey is also executive producing the HBO Max television adaptation of Samantha Downing's forthcoming novel "For Your Own Good" with Berlanti Productions, and is in development on an untitled drama for Apple based on the Toronto Life article The Sting. He executive produced the recent four-part wildlife unscripted series "The Bond" for Discovery+.
Downey has also segued into podcasting with the hit series "The Sunshine Place", which he produced for Team Downey. The eight-part investigative series about Synanon rose to immediate success upon release on August 10, landing the No.1 spot on the overall Apple chart and holding it for consecutive weeks. Simultaneously, he is co-authoring the forthcoming book COOL FOOD: Erasing Your Carbon Footprint One Bite at a Time alongside New York Times bestselling environmental author Thomas Kostigen. The book was recently acquired by Blackstone Publishing and marks Downey's first major non-fiction book.
Downey made his acting debut under the direction of Robert Downey Sr. in "Pound." Since then, he has amassed over 90 acting credits over his illustrious career. Previously, Downey earned a Golden Globe Award for his performance as the lead role in the action-adventure "Sherlock Holmes." The film brought in more than $524 million at the global box office and was followed by the equally prosperous sequel, "Sherlock Holmes: A Game of Shadows," which earned more than $545 million worldwide.
Downey was also nominated for an Academy Award in the Best Supporting Actor category for his work in Ben Stiller's 2008 comedy hit "Tropic Thunder." His performance as Kirk Lazarus also received Golden Globe, BAFTA, and Screen Actors Guild (SAG) Award nominations. In 1992, Downey was honored with his first Academy Award nomination in the Best Actor category for his portrayal of Charlie Chaplin in Richard Attenborough's acclaimed biopic "Chaplin," for which he also received a Golden Globe Award nomination. His role as Chaplin earned him a BAFTA Award and a London Film Critics' Circle Award.
In addition to his film and television work, Downey is the founder of FootPrint Coalition (FPC), which launched in 2019. FootPrint Coalition is a business and non-profit solely focused on the adoption and scaling of sustainable technologies.
Events featuring Robert Downey Jr.
Mar 11, 2023
2:30pm — 3:30pm
Events featuring Robert Downey Jr.
Mar 11, 2023
2:30pm — 3:30pm