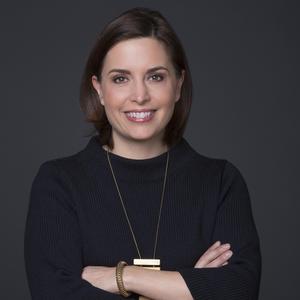 Elizabeth Cole is the executive producer of Dateline, the longest-running series in NBC primetime history. She is also the president of NBC News Studios, a new unit that produces documentaries, docuseries, podcasts, and scripted programming. Additionally, Cole oversees NBC News' award-winning audio unit.
As executive producer of Dateline, a role she's held since July 2011, Cole is responsible for the production of all episodes, investigative reports, podcasts and special series. Now in its 31st season, Dateline airs across NBC, cable and in broadcast syndication, with hundreds of hours available to stream on Peacock's Dateline 24/7 channel. The newsmagazine also reaches millions through its slate of #1 podcasts, including The Thing About Pam and its showcast.  Cole has also overseen numerous primetime specials and documentaries, including Life Inside, an inside look at the largest maximum-security prison in America, Reckoning, an investigation into Jeffrey Epstein and Silence No More, a special hour on the biggest sex abuse scandal in the history of Olympic sports. Additionally, she has led primetime coverage of breaking news and historical milestones.
In her role as the founding president of NBC News Studios, she has supervised and executive produced several highly-acclaimed projects, including: The Disappearance of Shere Hite (Sundance); Memory Box: Echoes of 9/11 (TIFF); Diamond Hands: The Legend of Wall Street Bets (SXSW); the upcoming MSNBC series Leguizamo Does America; and the Blumhouse scripted NBC series The Thing About Pam, starring Renee Zellweger.  
Before becoming executive producer of Dateline, Cole served as executive editor, supervising the daily editorial operations of Dateline. She also produced Tom Brokaw documentaries on the detention of asylum seekers in the U.S., the Iraq War, and intelligence failures leading up to the events of September 11, as well as Eyewitness to History, a two-hour NBC News farewell to Brokaw. In addition to her work at NBC News, in 2000 Cole served as vice president and senior executive producer of programming for Pseudo.com, a pioneering streaming video website.
During her time at Dateline, she has earned six Emmy Awards, which includes a recent win for Bringing Down Bill Cosby: Andrea Constand Speaks. She is also the recipient of two Peabody Awards, three Edward R. Murrow Awards and two Alfred I. DuPont-Columbia University Awards. Cole began her career in journalism as an NBC. She graduated from Vassar College, where she co-founded the campus TV station, VCTV. She lives in Brooklyn, New York with her husband, Christian Martin, and their two children.
Cole is on Twitter @elizcole.
Events featuring Elizabeth Cole
Events featuring Elizabeth Cole