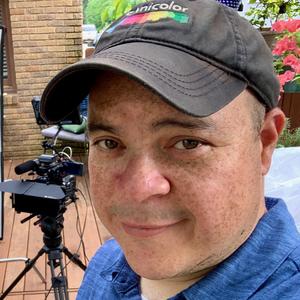 Award-winning director/cinematographer Ángel Granados served as an in-house Director of Photography and Producer for the American Society of Cinematographers and American Cinematographer Magazine. With over 20 years of professional narrative, documentary, and still photography work in 16 countries, he now serves as a Lecturer in the Cinematography Area at UCLA Department of Film, Television & Digital Media.
Ángel was raised in San Antonio and has worked in the Austin film scene for many years. He continues to teach Cinematography and Professional Independent Set Etiquette & Safety classes for Austin Film Society: Austin Public.
In 2012, Ángel co-founded a Summer International Filmmaking Program at Universidad Panamericana in Mexico City where he served as Head of Production from 2013-2017. He has also taught at Howard University, Austin Community College, and
San Diego State University.
Ángel holds a Master of Fine Arts degree in Cinematography from UCLA and a Master of Arts degree in Film Production/Directing from San Diego State University. He continues to produce and photograph independent feature narrative films, political ads, and documentaries for non-profits and legal firms.
Events featuring Angel Granados
Mar 10, 2023
2:30pm — 3:30pm
Events featuring Angel Granados
Mar 10, 2023
2:30pm — 3:30pm