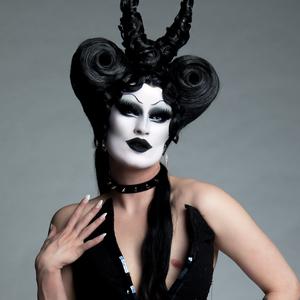 Gottmik (Kade Gottlieb) is a globally recognized Drag Superstar, Makeup Artist, Author and Trans Rights Activist who has quickly become a prominent fixture in pop culture.
Gottmik became one of the world's most celebrated drag artists after appearing on Season 13 (Spring 2021) of the Emmy-winning series RuPaul's Drag Race, where he became the first trans man to ever compete in the series. Fans were drawn to Gottmik's standout fashion and captivating makeup looks which can only be described as a brilliant collision of kabuki, anime, goth, origami and something absolutely not of this world.
The fashion world is rapidly embracing Gottmik's unique and mind-blowing aesthetic. Currently,
Gottmik can be seen starring in Versace's Holiday 2022 campaign. He has also been supported by and
partnered with dozens of other fashion houses including Miu Miu, Roberto Cavalli, Loewe, Hugo Boss, Versace, John Paul Gaultier, Giambattista Valli, Moschino. Gottmik appeared in Volume 3 of Rihanna's Savage X Fenty Show, and has walked in other shows in both the US and Europe.
In September 2021, Gottmik started a YouTube and Podcast series called No Gorge with fellow drag artist Violet Chachki where they discuss all things fashion, life and artistry. The show continues to be a trending conversation amongst many fans in the drag artistry communities.
In the past year, Gottmik has appeared on the covers of British Vogue, OUT, Glamour UK, Numero, Coveteur, Antidote, Gay Times, and Candy and appeared in Allure, Flaunt, InStyle, Vogue, Paper and more.
As a professional makeup artist, Gottmik has worked with Cindy Crawford, Heidi Klum, Paris Hilton, Kaia Gerber, Adam Lambert, Tinashe, Lizzo, RuPaul, Kim Petras, Lil Nas X and more. He studied his craft at The Los Angeles Institute of Design & Merchandising (FIDM) in Los Angeles. Originally from Arizona, Gottmik currently resides in Los Angeles, California.
…And as Gottmik famously says: It's time to crash the cis-tem!
Events featuring Gottmik
Mar 16, 2023
2:30pm — 3:30pm
Events featuring Gottmik
Mar 16, 2023
2:30pm — 3:30pm