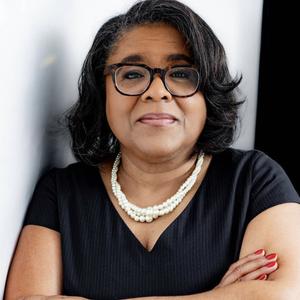 Yvette Perry is a lover of music and books, a collector of antique typewriters, and one fourth of a Marvel Cinematic Universe household that includes her husband and twin daughters. She is a graduate of Lesley College, Purdue University, and University of Minnesota, and was a member of Haraka Writers at the Black Cultural Center during her time as a Boilermaker.
She is a Listener-Poet with the Good Listening Project (TGLP) and has held listening sessions with and written over 60 poems for physicians, nurses, social workers, students, and others involved in the healthcare system. Yvette also serves as a member of The Good Listening Project's leadership team to develop strategic priorities for this non-profit organization aimed at cultivating resilience and wellbeing in healthcare settings. She is also involved with a number of other TGLP initiatives including The Good Listening Podcast, Brave Conversations, and the Certified Listener Poet Course.
She lives in Toledo, Ohio where she serves as the associate dean for medical school admissions at The University of Toledo.
Events featuring Yvette Perry, Ph.D.
Mar 13, 2023
10:00am — 11:00am
Events featuring Yvette Perry, Ph.D.
Mar 13, 2023
10:00am — 11:00am