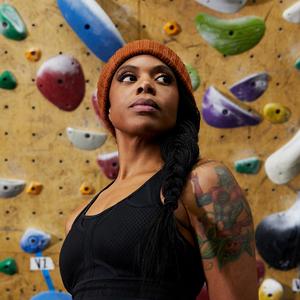 Brittany has always connected to the outdoors, from the mountains in upstate New York, to the ocean sides of Massachusetts, to city life in Washington DC (currently in Brooklyn, NY). For the last eight years, Brittany has led and taught others how to enjoy the outdoors safely while also clearing pathways for the PGM ( People of Global Majority) in the community—working with organizations such as Outdoor Afro, Appalachian Trail Conservancy, and REI. In 2018 Brittany was recognized as one of Blue Ridges Mountain Magazine's 30 under 30 and American Alpine Club-DC section's "one to watch." 
Brittany works hard to ensure that all voices are heard and accurately represented and has done so both as an athlete and as an organizer behind the scenes. For instance, in 2018, she joined the Outdoor Afro Expedition Team to Kilimanjaro, becoming part of the first-ever African American team to climb the mountain. She also spent three years creating the PGM climbing festival Color the Crag with Brothers of Climbing. Brittany is also one of the eight founding members of Brown Girls Climb. She has fostered the growth, education, and leadership of women of color and their allies by supporting regional leaders across the country, creating space for meetups, workshops, and events, over the last five years. She has taken on a new role in the collective as the CEO. 
​
Brittany has a strong love for education and has spent the last five years working as an early educator at the Smithsonian. In that capacity, she worked with children ages 2 to 6, intending to foster a sense of wonder and learning through objects at the museum. She has taken this institutional knowledge further and spent the last few years teaching workshops as a consultant on Professional Development around learning through play. She also supports teachers getting the conversation started on representation, youth activism, & museum studies and in contrast, keeping the discussion of how to bring outdoor connection into the classroom. 
​
Brittany has spent the last decade in the climbing community via an instructor, an athlete, and a community organizer. She is a board member at the @AMGA1979 and, most proudly, was able to take her AMGA SPI course. She will be aiming to take the exam in spring. Most recently, Brittany is featured in a children's book called Thrill Seekers — 17 Women of Extreme Sports; has climbed Kulma Kulshan with an all-Women of Color team and hiked one of her dream hikes, The Presidential Traverse. When Brittany is not climbing on rocks, hiking through trails, or being a community dreamer, you can catch her going to concerts, hanging out at museums, and spending time writing poetry.
Events featuring Brittany Leavitt
Events featuring Brittany Leavitt