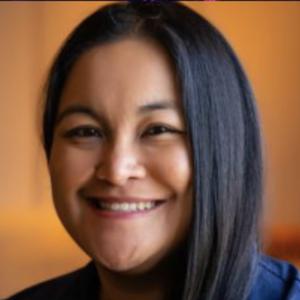 Melanie Capacia Johnson – President, NEO Studios, U.S.
 
Emmy Award-winning producer, Melanie Capacia Johnson is the president of full-service global production studio NEO Studios U.S., where she leads all IP development and production and runs the company's U.S. operations. NEO Studios, part of Aser Venture's Group, is a full-service global production studio that connects audiences to their passions via premium unscripted, scripted and live content, on all media platforms. NEO produces across a variety of genres and subjects, including the company's flagship sports and sports-related programming, while also integrating social, digital production and talent activations into all development and series.
 
While at NEO Studios, Capacia Johnson has executive produced and shepherded such series as discovery+'s Legacy: In The Shadow of Greatness, featuring Dwyane Wade, Evander Holyfield and Randall Cunningham; Prime Video's Life After starring 12 NFL legends, including DeMarcus Ware, Spice Adams, Thomas Q. Jones and more; PBS's Prideland, hosted by actor Dyllón Burnside; Amazon's Take us Home: Leeds United; Snapchat's Two Sides and Planet Rewild, hosted by rapper 2Chainz; Roku's Don't Look Deeper starring Don Cheadle; and Rakuten's The Giants, along with many other projects in development and production with such influential talent as Stephen Curry, Carmelo Anthony, Diego Maradona Jr. and Elaine Thompson-Herah.
 
Melanie began her career as an independent film producer before migrating to live and unscripted programming at Viacom where she worked across MTV Movie Awards, Video Music Awards, Hip Hop Honors, Rock Honors, VH-1 Divas, Nickelodeon Kids' Choice Awards and more.
 
Following Viacom, she co-founded marketing and production company, Tiny Horse, where she worked alongside major format owners (including Simon Cowell's Syco Entertainment, Talpa, ITV, Fremantle, BBC America and many more) to help them secure rights and produce programming that would ensure audiences outside of the television ecosystem (where the majority of Millennials and Gen Z spend their entertainment time) could engage with these predominantly TV-based IPs. Tiny Horse has since been incorporated into NEO Studios.
Events featuring Melanie Capacia Johnson
Mar 13, 2023
10:00am — 11:15am
Events featuring Melanie Capacia Johnson
Mar 13, 2023
10:00am — 11:15am