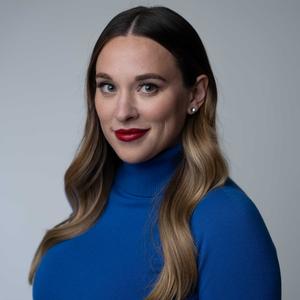 Ashley Flowers is the Founder of Audiochuck, an award-winning media and podcast production company known for its standout content and storytelling. Ashley is best known as the creator and host of Crime Junkie, Apple Podcasts' 2022 #1 ranked podcast globally.  She is also the author of All Good People Here, a fiction thriller and #1 New York Times bestseller. 
As Chief Creative Officer, Ashley works with her team to create an overarching content strategy and vision for the network of shows and company growth. In its short five-year history, Flowers has grown audiochuck from one to fifteen podcasts and generated over 1.5 billion downloads.
At the core of the company and all its productions, Ashley and her team are committed to developing responsible true crime content. Ashley's passion for advocacy is at the core of her work and led her to establish Season of Justice, a nonprofit dedicated to solving cold cases by funding advanced DNA testing and supporting victims and their families. She sits on the organization's board of directors.
Ashley lives in Indianapolis with her husband, daughter, and their beloved dog, Chuck.