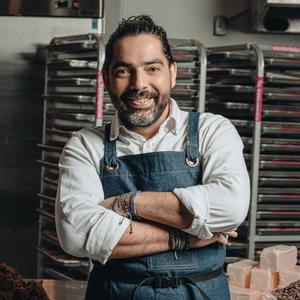 Luis Gramajo is the founder of Wunderkeks, a beloved Austin DTC cookie company that rose to prominence after a heel turn into e-commerce at the beginning of the Covid-19 pandemic, growing from farmer's market stand to a five-million-dollar company in less than three years.
Originally from Guatemala, Luis moved to the US with his partner Hans when they realized that, in order to live the full life they wanted, they needed to be seen, treated and be recognized as a family, which was not possible back home. Together they founded Wunderkeks, from the belief that the foods we shared tell the story of who we are, and that by openly, fearlessly telling our stories,we create the Safe Spaces others may need to tell theirs.
Luis and his now husband Hans also founded The Sunday Afternoon Foundation, Wunderkeks' sister charitable organization. Their goal for The Sunday Afternoon Foundation is to enable founders to build mission oriented companies and learn to properly measure their impact.
His background is in marketing, sales and photography, Luis has helped build Wunderkeks from merely a cookie brand into a movement, where the rituals surrounding how we consume desserts and what they mean are used to enable important, frank, one-on-one conversations. He has been responsible for having their story and the brand featured on major media outlets like Inc. Magazine, Business Insider, The Today Show, Despierta América, Variety among others, and their products on the 2022 Academy Award nominee gift bags.
Events featuring Luis Gramajo
Mar 13, 2023
4:00pm — 5:00pm
Mar 14, 2023
4:00pm — 5:00pm
Events featuring Luis Gramajo
Mar 13, 2023
4:00pm — 5:00pm
Mar 14, 2023
4:00pm — 5:00pm