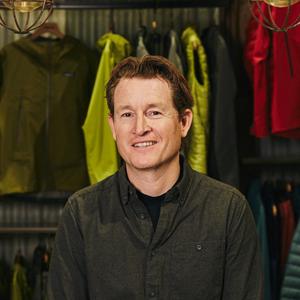 Ryan Gellert is chief executive officer (CEO) of Patagonia Works and Patagonia, Inc. Prior to his appointment to this global role, Ryan spent six years as Patagonia's general manager of Europe, the Middle East and Africa. During that time, he elevated Patagonia to a position of leadership in Europe's outdoor industry and environmental communities, overseeing all sales, marketing, environmental and operational activities for the brand.
Under Ryan's stewardship, Patagonia launched its first global environmental campaign around a European initiative: Save the Blue Heart of Europe, an international crusade to protect the last wild rivers of Europe from over 3,000 planned hydropower projects. He also launched Patagonia Action Works in the region, an online tool to connect people with local and global environmental groups, allowing them to take action on causes they care about.
Ryan has lived and worked in the United States, Asia and Europe. Before joining Patagonia, he spent 15 years at Black Diamond Equipment, where he held a number of roles, including brand president, vice president of supply chain management and managing director of Black Diamond Asia.
An avid climber and backcountry snowboarder, Ryan has climbed and ridden all over the world. He has extensive experience working with direct action environmental groups, having served on the boards of Access Fund, Protect Our Winters, the European Outdoor Group and the Soil Heroes Foundation. In addition, he was a founding individual member of 1% for the Planet.
Ryan holds a JD from the S.J. Quinney College of Law at the University of Utah; an MBA from the Florida Institute of Technology; and a BSBA in finance from the University of North Carolina at Charlotte.
Events featuring Ryan Gellert
Events featuring Ryan Gellert