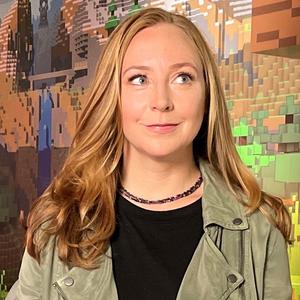 Allison leads a high performing cross-functional team in producing Minecraft Education, inspired by Mojang Studio's mission to build a better world through the power of play. She is invested in cultivating game-changing experiences and partnerships that empower young people with knowledge and skills they need to understand the world's toughest problems and create a better future.

From Minecraft Education's start-up phase, Allison has lead customer growth and product strategy to what is now a thriving global business with world-class partnerships and millions of players. She enjoys speaking to new audiences about the power of game-based learning to engage young people in topics from coding and literacy to sustainability and active citizenship.

Allison is a coaching leader who works with people to cultivate a healthy mindset and believes that pairing passion with curiosity is the key to unlocking potential. Prior to joining the Minecraft team, Allison worked in various roles at Microsoft gaining experience in product development and building go-to-market strategies in the fitness, gaming, retail, and device industries.

Born and raised in Canada, Allison received a bachelor's degree in economics from the University of Waterloo before moving to Seattle to begin her 20-year career with Microsoft.
Events featuring Allison Matthews
Events featuring Allison Matthews