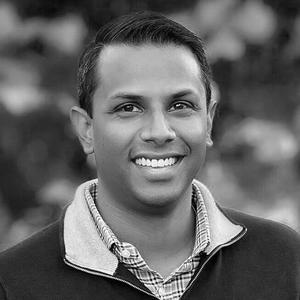 Ameeth Sankaran is CEO of Religion of Sports, an Emmy Award winning Media company co-founded by Tom Brady, Michael Strahan and Gotham Chopra, built on the thesis that sports are religion. The company produces content focused on a single narrative of 'Why Sports Matter' to explore themes such as greatness and human potential, among others.
Since 2017, the company is has produced award-winning content from short-form video to audio to feature films. Ameeth is an Executive Producer of Tom vs. Time, Greatness Code, Stephen vs. the Game, Man in the Arena, and the Crushed podcast among others.
Ameeth has a BS in Mechanical Engineering from the University of Texas at Austin, an MBA from Columbia Business School and spent over 15 years as a strategy consultant and a private equity investor.
Events featuring Ameeth Sankaran
Mar 13, 2023
11:30am — 12:30pm
Events featuring Ameeth Sankaran
Mar 13, 2023
11:30am — 12:30pm