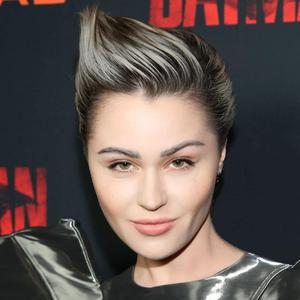 Viktoria Modesta is a bionic pop artist, entrepreneur, and creative director. Currently living in Los Angeles she has established herself as a Sci-Fi in real life artist & creative leader, connector, and innovator in the post-disability community, bridging pop culture and art with academia, medicine, and brands in hyper collaborative multimedia productions.
Viktoria first stepped onto the global stage with her perennially viral music/art video Prototype. Tallying hundreds of million views across the internet & television, her arresting post-disability design and sound introduced Viktoria as the world's first Bionic Pop Artist. She is most known for her hyper-stylized performances across the globe, such as the closing ceremony of the 2012 Paralympics, Super Bowl 2022, Miami Art Basel or her sold-out residency at the iconic Crazy Horse Paris cabaret, constantly pushing art and inclusivity forward in entertainment.
Her work with brands spans from an ambassadorship to fully involved art direction, team curation, strategy, and production executed via a co-founded creative studio Modestar, specializing in the acceleration of future-focused narrative for heritage brands, adaptive design & tech innovation sector while bringing a post disability perspective. Some of her key past clients include Rolls Royce, GM, Intel, Snap, Veuve Clicquot, Autodesk, and Pangaia.
An MIT Media Lab Fellow of 6 years and a member of the Young European Leaders program, Viktoria continuously explores the impact of technology and inclusive design on the future of human lifestyle and culture. Her life story has been recognized around the world as a testament of human strength and a transformative approach to modern identity: Barack Obama chose Viktoria to profile for his guest-edited WIRED magazine issue, and she has recently been selected as an ambassador and space trainee the first-ever inclusive space program 'Mission Astro Access'.
Events featuring Viktoria Modesta
Events featuring Viktoria Modesta