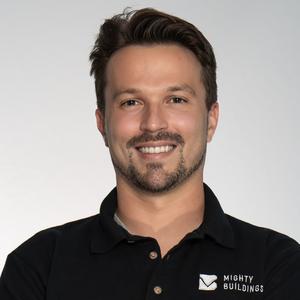 Alexey Dubov is a highly accomplished executive and serial entrepreneur in the field of technological innovation and advancement for the construction industry. As Co-Founder and Chief Innovation Officer of Mighty Buildings, he and his partners have developed a 3D printing technology to address the housing and climate crises by revolutionizing the construction of homes. In addition, Alexey is a startup advisor and angel investor, and has made numerous original contributions to operations and team growth for complex technologies. His entrepreneurial activities have spanned the globe, with startups in the US, Germany, Russia, and Singapore, two of which have achieved successful exits.
He is a member and contributor of the American Society for Testing and Materials on the Additive Manufacturing in Construction. He is also a member of the World Economic Forum's Global Innovators on the Future of Construction.
Alexey is passionate about using technology to solve global challenges and has been featured in Forbes, The Wall Street Journal, and The New York Times. He is a frequent speaker at industry events and conferences, and has been invited to speak at the University of Southern California.
Events featuring Alexey Dubov
Events featuring Alexey Dubov