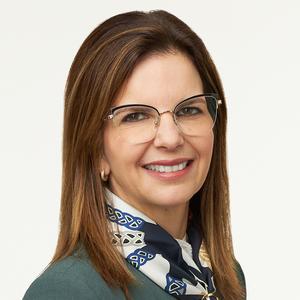 Leticia Gonçalves is ADM's president, Global Foods, and a member of the company's Executive Council. In that position, she has oversight of ADM's broad portfolio of food ingredients and solutions. She has responsibility for broad areas of growth focus, including savory, sweet goods and dairy, and oversees businesses ranging from alternative proteins and ancient grains and seeds, to edible beans and emulsifiers, hydrocolloids and polyols.

Prior to joining ADM in 2020, Gonçalves served more than 20 years at Monsanto, now part of Bayer. In her most recent role as senior vice president and U.S. division head, she oversaw business management responsibilities for seeds, crop protection and digital solutions. Before that, she was president of Monsanto Europe and the Middle East, where she oversaw the row crops and crop protection businesses across 29 countries. Other leadership roles at Monsanto/Bayer included U.S. commercial operations; U.S. technology development and agronomy; regional business director for U.S. national brands; and many other commercial roles in her almost 10 years at Monsanto in Brazil.

Gonçalves is a member of the board of directors of Believer Meats, a leader in cultivated meat technology. She is also a longtime advocate and driver of diversity and inclusion in business; she participated in the Signature Program in the U.S., and was a member of the Conference Board's Global Business Women's Leaders Council in Europe and in 2022 was named as one of Bloomberg Linea's 100 most influential Latinos. Gonçalves has also been active in many industry associations to drive broad sustainable agriculture and food efforts.

Gonçalves holds a bachelor's degree in chemical engineering from Universidade de São Paulo, Brazil and an executive MBA from the Katz Graduate School of Business at the University of Pittsburgh.
Events featuring Leticia Gonçalves
Events featuring Leticia Gonçalves