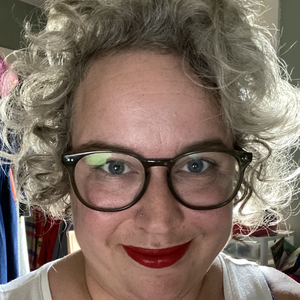 Abbey Simmons has been threatening to run away with a band since she was 8 years old, when she told her father she "wanted to be a Dead Head when she grew up." She followed through
with her promise at 31, when she jumped in her first band van "for a week, just to see what touring was all about." After 3 days of chasing a bus and sleeping on motel room floors, she knew she couldn't leave and stayed for the entire month-long tour. She's been on the road ever since, once spending 316 out of 365 days of the year on tour.
Abbey has worked in a variety of roles since getting her start in the touring industry – from merchandise manager to personal assistant to tour manager. She's worked for a unique swath of amazing musicians including Pavement, Sharon Jones and The Dap-Kings, Courtney Barnett, Charles Bradley, Sleater-Kinney, Maggie Rogers, Destroyer, and The Decemberists. She prides herself on still fiercely loving music, bringing in other women,
POC, and Queer folks into the touring world, and leading her tours with kindness and care.
Events featuring Abbey Simmons
Mar 16, 2023
11:30am — 12:30pm