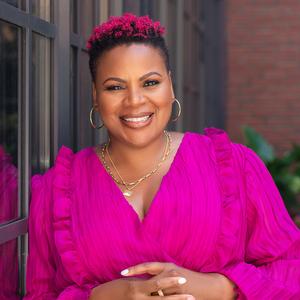 Political science professor turned social impact strategist.
Katrina Gamble, PhD is the founder and CEO of Sojourn Strategies, a Black woman owned and all women run social impact consulting firm that brings a people-centered approach to advocacy campaigns, race, gender & political research, and donor advising with clients who fight for equity, rights and justice.
Katrina is a researcher, educator, and political strategist that brings more than fifteen years of experience working at the intersection of social justice policy, advocacy campaigns and electoral politics – with particular expertise in voting rights & democracy, civic engagement, social movements, and race & gender equity.
She has led more than half a dozen successful pro-democracy campaigns across the country from Minnesota to Nevada. She also assisted in the development of the first ever national prosecutor accountability hub – bringing together leaders from across the country committed to transforming the U.S. criminal justice system – that laid the groundwork to elect a number of progressive prosecutors from Philadelphia to St. Louis.
Prior to founding Sojourn Strategies, Katrina was the Political Director at the Center for Popular Democracy (CPD). During her time at CPD she launched the organization's Voting Rights & Democracy program and led a political program that engaged more than a million voters.
Before moving into the social impact space, she was an assistant professor of Political Science at Brown University where she taught and conducted research on race, gender, and identity politics in the United States. Her work can be found in top-peer reviewed journals. She was an American Political Science Association Congressional Fellow and served as a policy adviser in the Office of the Majority Whip for James E. Clyburn (D-SC). Katrina holds a Ph.D. and M.A. in Political Science from Emory University and a B.A. in Government from Smith College.
Events featuring Katrina Gamble
Mar 12, 2023
2:30pm — 3:30pm
Events featuring Katrina Gamble
Mar 12, 2023
2:30pm — 3:30pm