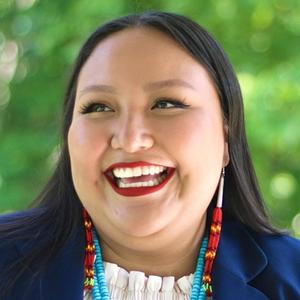 Representative Christina Haswood represents Kansas House District 10, located southeast of the City of Lawrence. Rep. Haswood is Dine' (Navajo) who grew up in District 10 and even started her higher education journey at Haskell Indian Nations University where she earned her A.S. in Community Health, then transferred to Arizona State University where she earned her B.S. in Public Health, and then graduated from the University of Kansas Medical Center where she earned her Masters in Public Health (MPH) in May of 2020.
Right after graduation during the pandemic, at the age of 26, Christina ran for office and won. Her TikTok (@HaswoodForKS) became well known as she used it during her campaign to share the values and policies she was running on. As several videos became viral, her most known is when she documented her swearing in day on January 2021, while in her traditional Navajo attire, currently at 1.4 million views.
Rep. Haswood currently sits on the House Federal and State Affairs, Health & Human Services, Taxation, and is the ranking minority on the Joint Committee on State-Tribal Relations. She is also the Policy Chair in the House Democrat Leadership Team and is the only Indigenous state legislator in Kansas and youngest Indigenous state legislator in the country.
Events featuring Christina Haswood
Events featuring Christina Haswood