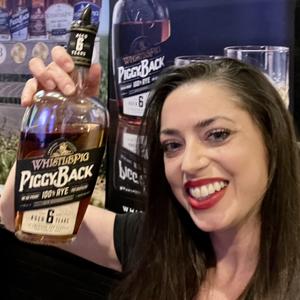 Liz is a technical distiller and self-proclaimed right-brained scientist with over a decade's experience in the alcoholic beverage industry.
Although she has worked across categories, whiskey is her passion, with experience in large established and start-up craft operations.
Having grown up in a sea of cereal fields in Central Illinois, one of her favorite things about whiskey is its roots in agriculture, which makes WhistlePig such a natural fit.
Liz spends her days leading the team on a variety of initiatives - from grain quality, to distillation and blending operations, to imagining the next groundbreaking WhistlePig Whiskey innovation.
Helping to advance the spirit industry, Liz has presented at several industry conferences, co-hosts a weekly whiskey webinar through Zavvy.co, and on occasion, pens technical articles for various publications.
Liz holds her Diploma Distiller from the Institute of Brewing and Distilling and a M.S. in Food and Fermentation Science from North Carolina State University.
Outside of making, thinking, talking, and writing about spirits, she enjoys yoga and Boulevardiers – but typically not at then same time.
Events featuring Liz Rhoades
Mar 13, 2023
4:00pm — 5:00pm
Events featuring Liz Rhoades
Mar 13, 2023
4:00pm — 5:00pm