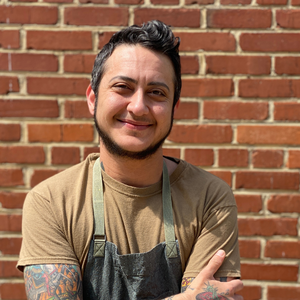 Marcelle Afram (they/he), Chef and Owner of Shababi, draws on their West Asian roots to celebrate the cuisine of their ancestors and to pay homage to Palestinian inspired cuisine.

Growing up in their parents' restaurants fueled their thirst for self-education, leading to a decade of international travel spent working in various sectors of the food service industry, before ultimately landing back in the DC area. Afram received acclaim for their focus on West Asian cuisine, receiving a Michelin star for their work in 2020, before moving on to launch Shababi Chicken as a pop-up in 2021, earning multiple local award nominations.
Afram is currently working on establishing a brick & mortar location for the Shababi concept.
Afram believes that through food, one can walk the path towards social justice advocacy. In addition to making cuisine representative of their heritage, they aim to bring awareness to political and social justice issues through their medium, with a focus on the Transgender community and advocacy for Palestine. They believe food can be a unifying force that brings people together. Afram has partnered with various social justice groups to raise funds and break down walls of bias and misinformation, and food has proven a worthy carrier of change.
Afram has been acknowledged for their culinary contributions and leadership most recently as a 2020 RAMMY Rising Culinary Star nominee, one of Washington City Paper's people of the year for 2021, as well as their advocacy bringing them to a roundtable discussion with Vice President Harris concerning issues surrounding the LGBTQ+ community in the restaurant industry.
Events featuring Marcelle Afram
Mar 12, 2023
4:00pm — 5:00pm
Events featuring Marcelle Afram
Mar 12, 2023
4:00pm — 5:00pm