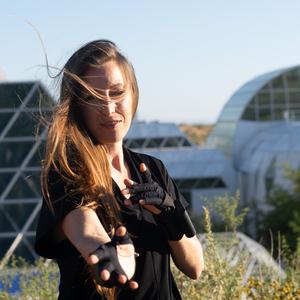 I'm an Experiential Designer & Creative Storyteller—musician, artist, technologist, explorer, Creative Director and co-founder of Cosmic Perspective. I'm on a mission to inspire hope, elevate empathy, and unite through experiences of awe and wonder.
MUSICIAN & ARTIST
As a musician and technologist, I am deeply inspired by the ways we can use technology to enhance our humanity, creativity, and connection—to ourselves, one another, and nature. I create music with with technology, such as my MI.MU music gloves, which are ever-enhancing the way I express and create.
As a solo artist, I go by the monicker "Annu," and I create music with my best friends in our band, "Twin Limb."
SPACE DOCUMENTARIAN & FILMMAKER
Inspired by The Overview Effect, my journey began with a quest to understand what was happening to our space travelers. Through research and interviews with astronauts, I discovered that The Overview Effect provokes a life-changing shift in identity and awareness with an elevated empathy for all living things. They return to Earth as artists and humanitarians, determined to share their new perspectives. Every experience I design has the goal of bringing this perspective—the Cosmic Perspective—down to Earth, so we may live with a deeper sense of our interconnectedness.
In 1968, Bill Anders was asked to describe the moment he took the famous "Earthrise" image of our planet from lunar orbit. All he could say was, "We should have sent poets…" When these words landed on my ears in 2016, I felt a jolt, a call to action—to translate the Overview Effect through awe-inspiring, transformative experiences.
Events featuring MaryLiz Bender
Events featuring MaryLiz Bender