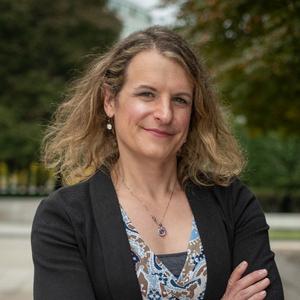 Bree Fram (she/her) is an astronautical engineer and a lieutenant colonel in the US Space Force. She is a passionate advocate and speaker on diversity and inclusion, leadership, and LGBTQ+ issues.
Bree came out publicly as transgender on the day the transgender ban in the military was dropped in 2016. She transitioned while in a command position and served through the re-imposition of a transgender ban from 2019-2021. She is currently one of the highest ranking out transgender officers in the United States military. Bree served as President of SPARTA, a non-profit that advocates and educates about transgender military service.
Bree has appeared on national and international news media, including ABC and NBC Nightly news, France 24, BBC, PBS News Hour, and NPR. Her writing has been featured in the Washington Post, Military Times, Inkstick, and LGBTQ Nation.
Bree is the editor of With Honor and Integrity: Transgender Troops in Their Own Words from NYU Press and the author of Forged in Fire: From Discrimination to Leadership in the LGBTQ+ Community, a forthcoming work on LGBTQ+ Leadership Development from Jessica Kingsley Publishers.
Events featuring Bree Fram
Mar 13, 2023
2:30pm — 3:30pm