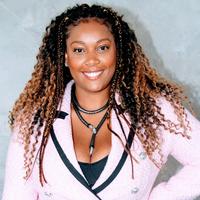 Janishia Jones, is a multi-hyphenate entrepreneur, author, social activist, music technologist, and musician based in Los Angeles, CA.
With degrees in Recording Arts, Music Business, and Entertainment Business from Full Sail University, Janishia has built a 13-year career in the music industry. Working with renowned companies like SRC/Universal Motown, eOne, Kobalt Music Publishing, and EMPIRE, her specialization in rights & royalties helped expand business operations into emerging markets. In 2022, Janishia launched ENCORE Music Tech Solutions, providing music companies with custom software & offering opportunities to the next generation of BIPOC music technologists. Janishia's book, Getting The Bag: Rights & Royalties Management in Today's Modern Music Economy reached #7 on Amazon's Best Sellers List in the 'Music Business' category. Janishia's expertise has made her a sought-after speaker at conferences worldwide, including the Canadian Music Week Conference in Toronto & Wallifornia Innovation Summit in Belgium.
In 2019, Janishia established Fresh 'N Sassy Productions, providing safe spaces for women of color in the music business. As the host of the Pub Royalty Queen Podcast, she has interviewed over 30 women of color, including industry veterans and newcomers, about their experiences in the male-dominated industry. Janishia's groundbreaking research study, 'A Seat at the Table: A Perspective on Women of Color in the Music Business,' has been presented at prestigious conferences such as the Music Biz Conference, SXSW, Reeperbahn Festival in Germany, and Future Music Forum in Barcelona. She also consults with major music institutions to promote equitable opportunities.
As the Founder and Chairwoman of JukeJoint Foundation, a 501(c)(3) non-profit organization, Janishia leads programs that offer scholarships, grants, and access to music business events for women of color. Through mentorship, social activism, and her expertise in music business operations and technology, she empowers disenfranchised groups in the competitive industry.
Janishia's efforts address the lack of diversity in music executive positions, where the ratio of white male to black female executives is disproportionate. Her dedication to inclusivity and providing resources aims to restore balance and empower women of color in the music industry. Through So Saucy Records, she provides a platform for developing diverse female artistic and executive talent.
Events featuring Janishia Jones
Events featuring Janishia Jones