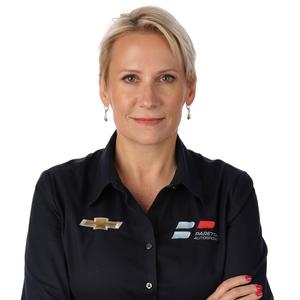 Beth Paretta is the Founder and Team Principal of Paretta Autosport – the first
woman-owned, woman-driven, and woman-forward team in INDYCAR SERIES history.
The team launched in 2021 and made history when they qualified and ran in the Indianapolis 500 with a majority women's team.
In 2022 they competed a partial race season with their driver, Simona De Silvestro. With a roster of ~70% women across all roles including: mechanics, engineers, pit crew, marketing, and business, Beth and Paretta Autosport utilize sport as a lens for action to promote equity in the workplace and skills-based training for all.
Off-track they develop and support programs to encourage young women to study STEM and pursue careers to ultimately diversify and feed the workforce pipeline well beyond motorsports.
Prior to the founding of Paretta Autosport, Beth had a successful history as an automotive executive with leadership roles at Volkswagen Group, Aston Martin and Fiat Chrysler Automobiles (FCA) across operations, marketing, and finance. While at FCA Beth was the first woman to lead a performance brand of a global automaker, as the Director of the SRT - Street and Racing Technology. In that role she also managed the operations of racing programs in multiple series including NASCAR, IMSA, SRO, SuperCross, TransAm, Global RallyCross, and the 24 Hours of Le Mans.
In 2021 Beth co-founded Women in Motorsports North America (WIMNA) with Lyn St. James. This professional network is devoted to supporting opportunities for women across all racing disciplines ensuring the continued strength and successful future of the sport.
Beth is a board member of the Motorsports Hall of Fame of America and the global Marketing delegate to the FIA Women in Motorsport Commission. Beth was named one of AutoWeek magazine's "Secret People" as well as a "Game Changer" and "Power Player - Women's Sports" by Sports Business Journal. She is from Farmington, CT
Events featuring Beth Paretta
Mar 11, 2023
10:00am — 11:00am
Events featuring Beth Paretta
Mar 11, 2023
10:00am — 11:00am