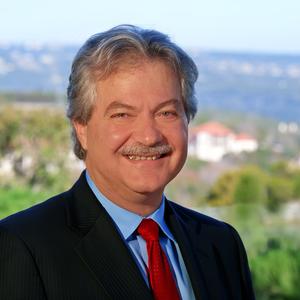 ANGELOS G. ANGELOU, Cell +-512-658-8400
Founder & CEO of the International Accelerator
Founder & Principal Executive Officer, Chief Strategist, AngelouEconomics
EDUCATION: Ph.D. coursework in Economics, Southern Methodist University, Dallas, Texas; M.A. Economics and Management, St. Mary's University, San Antonio, Texas; B.A. Economics and Political Science, University of Texas, San Antonio, Texas
PROFESSIONAL MEMBERSHIPS
● Site Selectors Guild, Founding Member, Past Advisory Board of The College of Natural Sciences at the University of Texas at Austin
● Past The CPRIT Board of Directors (Texas Governor Appointee), a $3 billion Texas Grant Program specializing in Cancer Research and Commercialization
● Past IC2, an international think tank on venture capital and entrepreneurship
BIOGRAPHY
Angelos is the Founder and CEO of the International Accelerator (IA) in Austin, Texas, which is focused exclusively on foreign born entrepreneurs and helping them to launch their technology startups in the US. Angelos is an angel investor in over 2 dozen startups.
Since its creation in 2016, IA has invested in a portfolio of 35 startups from 14 countries, its first fund has already returned nearly 300% to its investors and it is expected to return another 20,000% based on the valuation of its portfolio which is over $640 million.
IA's portfolio companies have collectively raised over $150 million. IA has 4 potential unicorns in its portfolio, making it the most successful accelerator in Texas.
Angelos Angelou is also the Founder and Principal Executive Officer of AngelouEconomics, an economic development and site selection consultancy based in Austin, Texas. Prior to forming AngelouEconomics, Angelos was Vice President of Economic Development at the Greater Austin Chamber of Commerce where he served for nearly 12 years. He is widely regarded as the chief architect in the establishment of Austin as another Silicon Valley.
Events featuring Angelos Angelou
Mar 13, 2023
4:00pm — 5:00pm
Events featuring Angelos Angelou
Mar 13, 2023
4:00pm — 5:00pm