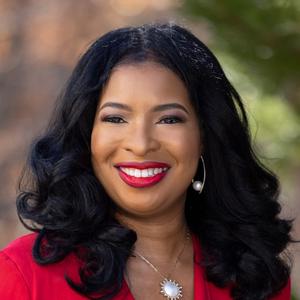 Arndrea Waters King has dedicated herself to public service as a passionate leader in the global fight against inequity, injustice, hate crimes, and all forms of pain. Throughout her life, Arndrea has consistently worked on behalf of those who have been marginalized by helping them find — and collectively use — their voices for change.
Arndrea is a graduate of Emory University in Atlanta. Soon after graduation she joined the Center for Democratic Renewal, an organization founded and headed by Dr. C.T. Vivian, a lieutenant of Dr. Martin Luther King, Jr. During her tenure, Arndrea organized the first National Conference on Hate Crimes and Hate Violence with over 100 national partners.
Currently, as president of the Drum Major Institute (DMI), Arndrea plays a critical role in creating strategic partnerships and managing the daily operations of this active social justice organization. A nonprofit founded over 60 years ago, the Drum Major Institute has provided Arndrea a platform from which to contribute to the Kingian legacy and encourage individuals to embrace their unique contribution to peace, justice, and equity for all.
Events featuring Arndrea Waters King
Mar 13, 2023
10:00am — 11:00am
Mar 14, 2023
2:00pm — 2:30pm
Events featuring Arndrea Waters King
Mar 13, 2023
10:00am — 11:00am
Mar 14, 2023
2:00pm — 2:30pm