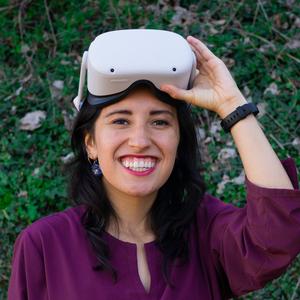 As a journalist turned technologist, I'm fascinated by the ways Virtual Reality and Augmented Reality impact how we think, learn, and interact. I'm now an Experiential Producer with AMP Creative. I'm also the Marketing and Community Engagement Lead for Qxr Studios, a creative studio focused on immersive worldbuilding. Qxr's current project is Metropolis Origins, an NFT card game that was nominated as one of the best blockchain games of 2021! Let's talk crypto and immersive tech.
Prior to AMP, I was the Senior Marketing Manager for The Glimpse Group, a diversified VR/AR platform company comprised of 8 unique enterprise-focused subsidiaries. I worked closely with C-Suite and General Managers to turn ideas into comprehensive marketing assets. My work boosted Glimpse's digital engagements by 400% in 12 months.
Another fun fact? I am a highly decorated media-maker! I was an assistant producer for "With Infinite Hope: MLK and the Civil Rights Movement, " an Emmy nominated documentary about the assassination of Dr. Martin Luther King, Jr. The documentary aired on over 75 PBS stations across the nation. My news and feature stories produced for WRFI Radio and WICB Radio have won awards from both the New York State Broadcasters Association, Syracuse Press Club, and the Society of Professional Journalists. I also reported at the 2017 Presidential Inauguration with PBS NewsHour.
Events featuring Elena Piech