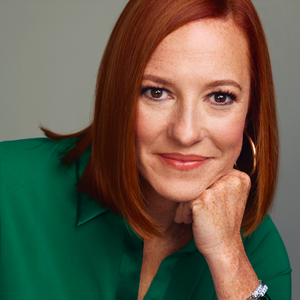 Jen Psaki is an MSNBC host and the former White House Press Secretary for President Joe Biden.

With her show set to launch this spring, Psaki appears across all of MSNBC's flagship programs, adding a unique perspective from her first-hand experience at the highest levels of government. She is a principal voice in the network's primetime coverage of major political events and regularly contributes to NBC News' TODAY, Meet the Press, and Election Night programming.

As press secretary, Psaki was lauded by the Associated Press as a communicator who "dug deep into policy, seeking an understanding that goes far beyond talking points" and was celebrated for bringing "a mixture of warmth, humor, intelligence, and edge" to her role by Vogue.

Prior to her time in the Biden White House, Psaki was a long-time advisor to President Barack Obama and served as a traveling press secretary on his first long-shot campaign and later served as the White House Communications Director.

Psaki also served as the administration's public face on the global stage during her tenure as the State Department Spokesperson, traveling the world with Secretary of State John Kerry.
Events featuring Jen Psaki
Events featuring Jen Psaki