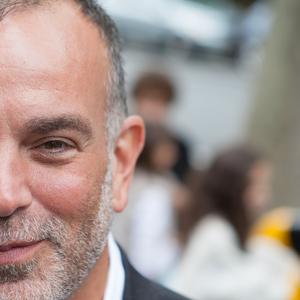 Josh Rabinowitz is an acknowledged global thought leader in that space where music, media, and creative content intersect. During his 20 + year career he has produced and/or music supervised over 10,000 tracks for brands, cinema, social media, major recording labels and tv.
Rabinowitz has been called a "New Music Mogul" by Fast Company, "The Voice" of the music branding space in the press, and a "Branding Power Player" by Billboard where he was also a 'celebrity' columnist for "With the Brand."
He's been a Professor at The New School in NYC since 2008, teaching two popular courses: Music in the Media and Music Curation and Supervision in Media.
At Brooklyn College's Feirstein Graduate School of Cinema he teaches the only Music in Advertising course offered at any American university. He has also been an Adjunct Professor at NYU Steinhardt, Drexel, and Tufts University (his alma mater).
He has been cited in The NY Times, Rolling Stone, The Guardian, Time, Le Monde, The New Yorker, NY Magazine, the WSJ, Vulture, Crain's, Variety, AdAge, Forbes, etc., and has appeared on Bloomberg TV News and NPR (National Public Radio) many times.
Rabinowitz was chosen to be the inaugural President of the Cannes Lions (Festival of Creativity) Music Jury in 2016, where he was introduced as "THE musical genius."
He has been a successful bandleader and trombonist, weaned on the streets of the world's cultural capital - Brooklyn, USA - before it was cool.
He has spoken at more than 50 international music conferences including SXSW, Midem, SPOT, ADE, XpoNorth, Music Matters, Tokyo Music, Cannes Lions, etc.
He resigned his position as the EVP/Director of Music at Grey Group in 2019 to start a Music and Sound Consultancy called the Brooklyn Music Experience.
https://brooklynmusicexperience.com
His current passion is to coach and advise aspiring musical minds.
Events featuring Josh Rabinowitz
Events featuring Josh Rabinowitz