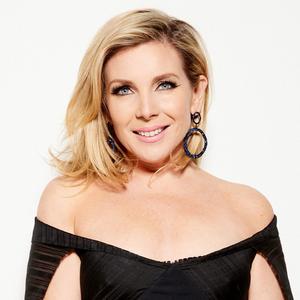 June Diane Raphael is an actress, comedian, screenwriter, and producer. June mostly recently wrapped seven seasons on the Netflix series Grace and Frankie as Brianna, Jane Fonda's bold entrepreneurial daughter. She was recently seen in the feel good holiday film on HBO Max film 8-Bit. And is known for her role opposite Charlize Theron and Seth Rogen in Lionsgate's comedy, Long Shot. In addition, June co-hosts the Deep Dive podcast with her best friend Jessica St Claire The Deep Dive where the ladies 'deep dive' into a wide range of topics such as, motherhood and family, to feminism. The Deep Dive captures the friendship of two women trying to survive adult womanhood.
She also is the co-author of Represent: The Woman's Guide to Running for Office and Changing the World which is being adapted for the screen. .
Other notable achievements include the 2013 Sundance Film, Ass Backwards, which she co-wrote and starred in with her creative partner, Casey Wilson. Her guest star appearances bring in some of the seasons' highest ratings thanks to her perfect comedic timing. Her extensive television credits include Black Monday, I'm Sorry, Fresh Off the Boat, Curb Your Enthusiasm, Lady Dynamite, New Girl as Dr. Sadie (the lesbian gynecologist and friend of Jess and CeCe), The League as Pam, Flight of the Conchords, American Dad! and The Muppets as Lucy Royce, Head of ABC.
She has also appeared in films including The Disaster Artist, Blockers, Zodiac, Bachelorette, Forgetting Sarah Marshall, and Anchorman 2: The Legend Continues. June found her niche and love of comedy after college when she went to work for UCB, first in New York and later in Los Angeles. It was in New York where Raphael and Wilson wrote their two-woman sketch show, Rode Hard and Put Away Wet, that went on to run for 3 years at UCB.
She was recently seen in the Casey Wilson directed short, "Daddio", and reprises her role on the Netflix hit series Big Mouth. Additionally, she co-stars opposite Tracee Ellis Ross and Dakota Johnson in the Focus Features/Working Title film, The High Note directed by Nisha Ganatra.
June founded The Jane Club, a community for women and caretakers, which recently pivoted into a digital space offering an entire village of support to Janes who reside across the United States and around the world. June resides in Los Angeles along with her husband Paul Scheer and their two children.
Events featuring June Diane Raphael
Events featuring June Diane Raphael