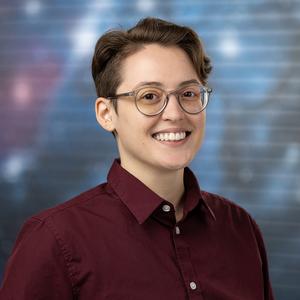 Luc Riesbeck (he/him/they/them) is a Space Policy Research Analyst based at Astroscale U.S.' Washington, D.C. office, where he collaborates across the space community to mature cross-disciplinary solutions to orbital sustainability challenges. He holds an M.A. in International Science and Technology Policy concentrating in Space Policy from the Space Policy Institute at George Washington University, and a B.A. in Social Science from New York University Shanghai.
Luc's graduate research focused on policy solution sets for active orbital debris removal, on-orbit satellite servicing, and other emerging applications of advanced robotics for rendezvous, proximity, and docking operations in space. At Astroscale U.S., he is part of a team making active debris removal and on-orbit satellite servicing a reality for government and industry customers. His work equips operators across the space enterprise with strategic, political, and operational tools to execute a sustainable stewardship of the orbital environment and accelerate creativity in aerospace technologies and practices.
Luc fosters a targeted professional interest in building a global space policy environment that incorporates principles of universal design, sustainable development, and ethics in science and technology.
Events featuring Luc Riesbeck
Events featuring Luc Riesbeck