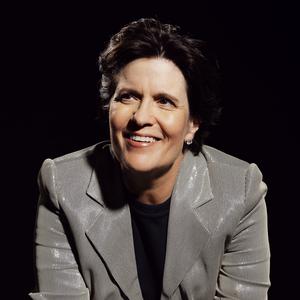 Kara Swisher is host of On with Kara Swisher and co-host of the Pivot podcast. She's also editor-at-large of New York Magazine. She is the former host of the Sway and Recode Decode podcasts and the co-founder of the technology website, Recode.
Considered the top reporter in the tech game, Swisher has been reporting on the industry since the early 1990s. She was there when Amazon was looking for its first headquarters in Seattle, when Google was in its garage and when Netflix was just a small startup. Once called "Silicon Valley's most feared but revered journalist" by New York Magazine, Swisher has established herself as the oracle of the tech world with unrivaled access to the industry's most significant leaders.

Swisher was previously a contributing New York Times opinion writer and host of the podcast, Sway. She co-founded the technology website Recode and, before that, co-produced and co-hosted The Wall Street Journal's "D: All Things Digital" conference series (now called the Code Conference) with Walt Mossberg starting in 2003. It was, and still is, the country's premier conference on tech and media. She and Mossberg were also the co-executive editors of a tech and media website, AllThingsD.com, founded in 2007. Swisher worked in The Wall Street Journal's San Francisco bureau.

For many years, she wrote the column "BoomTown," which appeared on the front page of the Marketplace section and online at WSJ.com. Earlier in her career, she worked as a reporter at the Washington Post and as an editor at the City Paper of Washington, D.C. She received her undergraduate degree from Georgetown University's School of Foreign Service and her graduate degree at Columbia University's School of Journalism. Swisher is also the author of aol.com: How Steve Case Beat Bill Gates, Nailed the Netheads, and Made Millions in the War for the the Web, published by Times Business Books in 1998. The sequel, There Must Be a Pony in Here Somewhere: The AOL Time Warner Debacle and the Quest for a Digital Future, was published in 2003 by Crown Business.
Events featuring Kara Swisher