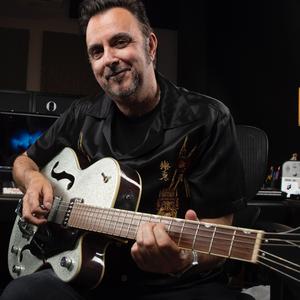 Tim Palmer has produced and mixed albums for a huge selection of classic and alternative artists, from Robert Plant, David Bowie and Tears For Fears to Ozzy Osbourne, The Goo Goo Dolls and U2. With the recent success of the Psychedelic Furs album that Tim mixed, he has succeeded in having Top Ten albums in the UK for 5 Decades.
Tim Palmer mixed "TEN" for Pearl Jam, which is now in the top 50 best-selling albums of all time and the album was inducted into the Grammy Hall of Fame in 2021.
In 2001, Tim was nominated for a Grammy for his mixing work on U2's "All That You Can't Leave Behind." The album went on to win a Grammy for 'Best Rock Album'. Tim also mixed the Grammy winning songs 'Stuck in a Moment' and 'Elevation' from this album.
Now based in Austin, Tim has continued producing and mixing for the likes of Tears for Fears, Jason Mraz, Blue October, The Polyphonic Spree, H.I.M and The Psychedelic Furs. In 2014 Tim mixed the 3 times GRAMMY-nominated Billy Child's album "Map to the Treasure"  
More recently, Tim has mixed on the latest Tears for Fears album 'The Tipping Point' (#8 on the Billboard 200) and he co-produced a new album from VV (Ville Valo) that debuted at #4 in Germany. He has also been working with Grammy 'Producer of the Year'  Larry Klein, mixing projects including Kandace Springs, Lang Lang, Liz Wright, Luciana Souza and 2 multi guest Jazz albums to celebrate the work of Charlie Parker and Jaques Brel. 
Alongside serving 2 terms as Recording Academy Trustee, Tim also serves on the advisory board for the Austin non-profit 'Sonic-Guild'. Like the opera, symphony, ballet or theatre, Sonic Guild believes local music is art and deserving of support. In 4 years Black Fret has surpassed $3.5 million in grants and performance payments to Austin musicians.