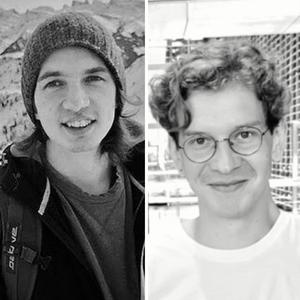 Lukas Wind, Leslie Herzig
Lukas was born 1995 in Germany. After graduating high school, he worked as a scenic painter for theater and film, freelancing in illustration on the side for several years. Intrigued by animated films, he moved to Switzerland in 2019 to study animation at the Lucerne School of Art and Design.
Leslie, born in Solothurn, Switzerland in 1998, began his journey in the creative field by experimenting with illustration while figuring out his artistic identity. Fueled by a curiosity for animation, he started creating short videos and eventually developed a colorful series of 17 episodes. With this Leslie persisted and decided to study animation at the Lucerne School of Applied Sciences and Arts. With a focus on improving his craft, Leslie graduated with a mixed media short film, "Remove Hind Legs Before Consumption." and a resume of bad jokes. Today, Leslie continues to own his skills and create content with both good jokes and compelling storytelling.
Events featuring Lukas Wind, Leslie Herzig
Mar 11, 2023
8:45pm — 10:30pm
Animated Shorts Competition
presented by
IMDbPro
Mar 15, 2023
3:00pm — 4:45pm
Animated Shorts Competition
presented by
IMDbPro
Events featuring Lukas Wind, Leslie Herzig
Mar 11, 2023
8:45pm — 10:30pm
Animated Shorts Competition
presented by
IMDbPro
Mar 15, 2023
3:00pm — 4:45pm
Animated Shorts Competition
presented by
IMDbPro