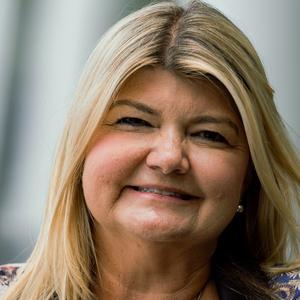 Sandy Carter is SVP and Channel Chief at Unstoppable Domains. She is responsible for driving new partnerships to integrate UD's Digital Identity technology. Her mission is to onboard the world onto Web3 by making blockchain based identity accessible and useful.
Previously, Sandy was the VP for Public Sector Partners and Programs at AWS, where she was responsible for driving next-generation partnering in cloud, machine learning, IoT and blockchain, growing the ecosystem over 45%. In her last role at IBM, she ran the entire AI/ML Ecosystem.
Sandy is the Chairman of the Board of Girls in Tech, founded Unstoppable Women of Web3, and is an adjunct professor at Carnegie Mellon University Silicon Valley. She is also the author of Extreme Innovation and has been a founder and CEO of a startup.
Her accolades include: a Top 100 Chief Tech Leader, Top 14 Edge Leader, Federal 100 Award Winner, member of Fortune Most Powerful Women, CNN Top 10 Most Powerful Women In Technology, Forbes Top Digital Influencer, 2022 Top Channel Chiefs, C-Suite Social Media Legend, Verdicts Top 10 AI & Cloud Computing Influencer, Stevie Award Winner for Women of the Year Technology, 2021 Cloud Rising Visionary Award, Top 50 Influencers in Tech, Top 150 Global Cloud Thought Leaders of 2021, Lifetime Achievement Winner, 'Excellence in Cloud Achievement', Forbes AI Innovator Nominee, and Franz Edelman Laureate for Analytics Innovation.
Events featuring Sandy Carter
Mar 11, 2022
11:30am — 12:30pm
Mar 12, 2022
12:00pm — 1:00pm
Events featuring Sandy Carter
Mar 11, 2022
11:30am — 12:30pm
Mar 12, 2022
12:00pm — 1:00pm